The Miracle of Nissan ProPilot Assist
Nissan CEO Hiroto Saikawa had an exciting piece of news to share at their 2018 fiscal results meeting: The brand will be expanding its ProPilot Assist technology to yet another of Nissan's models: The Rogue Sport (not to be confused with the Rogue SUV crossover). What this means is that yet another Nissan SUV will soon come fully equipped with ProPilot at the driver's convenience. The significant aspect of this is that more drivers will be able to take advantage of the future today.
ProPilot continues to be one of the most exceptional of all self-driving technologies. Granted, you're not getting a fully self-driving vehicle, but you get something that drives along with you, senses your movements and facial features, and takes control of the wheel and braking systems when it needs to. And it's all available via a two-button system that's as simple as a couple of clicks. Previously the technology was only available on the Rogue and the Leaf (Nissan's remarkable electric vehicle), but now it's expanding to the Nissan Rogue Sport, a model known in Canada as Qashqai. Whatever you call it, it's one exceptional vehicle, and now it's going to get even better in the future thanks to ProPilot Assist.
Big Future Plans for ProPilot Assist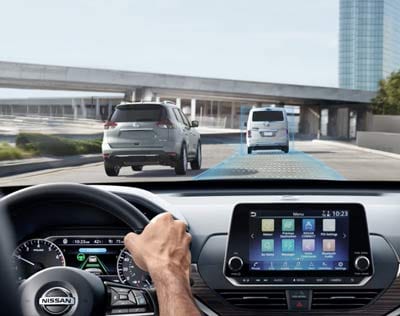 This technology has been branded "the future of driving," and it certainly backs that up with features that look straight out of a sci-fi movie. Stop and go driving is no longer a problem thanks to the front radar sensors that can determine the distance between your Rogue Sport, Rogue, and Leaf and the vehicles in front of them. If you ignore warnings to stop, the vehicle can fully take control and apply the brakes - gently - for you. This eliminates the frustration of stop and go commuting, but it also makes it much safer during highway drives that often require prolonged concentration and can become tiring. Driver attention is a central focus of the technology, as it uses a forward facing camera to gauge driver attention.
Acceleration, braking, and ongoing monitoring thanks to the forward-facing camera all make for a terrific "as close as it gets" to a self driving vehicle in today's world. Nissan is bringing the future to us today, and they plan to expand ProPilot Assist to other models in the coming years. By 2022, they plan to have ProPilot Assist as a feature on 20 models! You might be the owner of one of these terrific models, but for now you have two to choose from and a third one on the way: The Nissan Rogue Sport. Look for ProPilot Assist to appear on future editions of the Sport, and of course it will remain an active feature on the Rogue and Leaf.
Learn More About ProPilot Assist Today
ProPilot Assist is one of the most promising technologies in our modern era, and Nissan is taking it to its limits and beyond. It's going to appear on the Rogue Sport in the future, but for now you can still test drive two models that already have ProPilot Assist installed: The Leaf and Rogue. And we just happen to have a great array of those models here at Trophy Nissan! You can write to us if you need to ask questions, request a quote on the Leaf or Rogue, or simply stop by and see us and ask to test drive one of these cars of the future today. We'll look forward to showing you all the goodness that ProPilot Assist has to offer.