The broad class of SUVs, to which the Nissan Pathfinder (and its special edition trim the Rock Creek) belongs, is one of the most competitive. At a time when consumers are buying more SUVs than any other vehicle, automakers naturally want to make their cars stand out. So how does Nissan accomplish that? By making the 2019 Rock Creek trim look as powerful and durable as its name implies.
While any version of the 2019 Pathfinder looks ready to hit the trails, the Rock Creek is the sportiest and most athletic of all. In addition to its big wheels, powerful engine, and distinctive exterior accents, the latest Rock Creek is brimming with interior amenities and conveniences. Along with distinctive trim on the outside, you'll know you are setting foot into the 2019 Rock Creek trim with its custom-designed interior. Plenty of features come standard, but there are also a number of add-on features and amenities to enjoy, too.
A Sharp Appearance With Bold Lines
When you first set eyes on the 2019 Rock Creek, you'll find that it looks more distinctive than ever before. Now, the Rock Creek Pathfinder shows everyone what trim level you're driving with the words "Rock Creek" embedded on the front doors. There is also custom badging around the exterior. This is especially true if you drive the four-wheel-drive version, which gets a unique badge showing what drivetrain your SUV has. This year, Nissan went a bit darker with the Rock Creek appearance. Black accents, which might sound like a subtle improvement, make a big difference in the vehicle's overall appearance.
Black accents on the standard package grace the fascias, the wheels, and the roof rails. You can also upgrade to an accent package that adds black door handles, a black license plate frame, a mesh grille, and black mirror caps. Even the wheels, which are an impressive 18 inches in this year's model, are black. The wheels are paired with sturdy all-season tires that are just under a half-inch wider than the previous edition and what you'll find on other Pathfinder trims. Completing the SUV's unique appearance are splash guards, which add to its off-road design, and a wiring harness that makes towing easier.
How is the Interior of the Rock Creek Edition Different?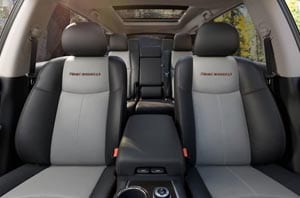 Inside, the 2019 Rock Creek edition is just as impressive. From the two-tone seats to contrast stitching around the interior, even the smallest improvements make a big difference. The Rock Creek offers plenty in the way of standard amenities too, such as a premium Nissan infotainment system with hands-free and a complimentary subscription to satellite radio. Navigation is available if you want it. Leather seats are available as an upgrade. With the addition of the Premium package, you'll also get an impressive Bose sound system, a towing hitch, and a panoramic sunroof. This package also upgrades the wheels to 20 inches and gives you sturdier tires.
Power and Capability are On Point
The 2019 Rock Creek is offered in front-wheel drive and four-wheel drive. Choosing the four-wheel drive costs a bit more, but it gives you more off-road endurance. Either way, you'll get a maximum 6,000-pound towing capacity. An automatic transmission is standard, as is a powerful six-cylinder 3.5L gasoline engine.
In keeping with the Pathfinder tradition, Nissan made the 2019 Rock Creek version a true symbol of freedom, power, and adventure. The Rock Creek standard features alone are enough to impress. But with the addition of available features and custom packages, the SUV gets even better. Call or contact us today to learn more about the 2019 Rock Creek and schedule a test drive.