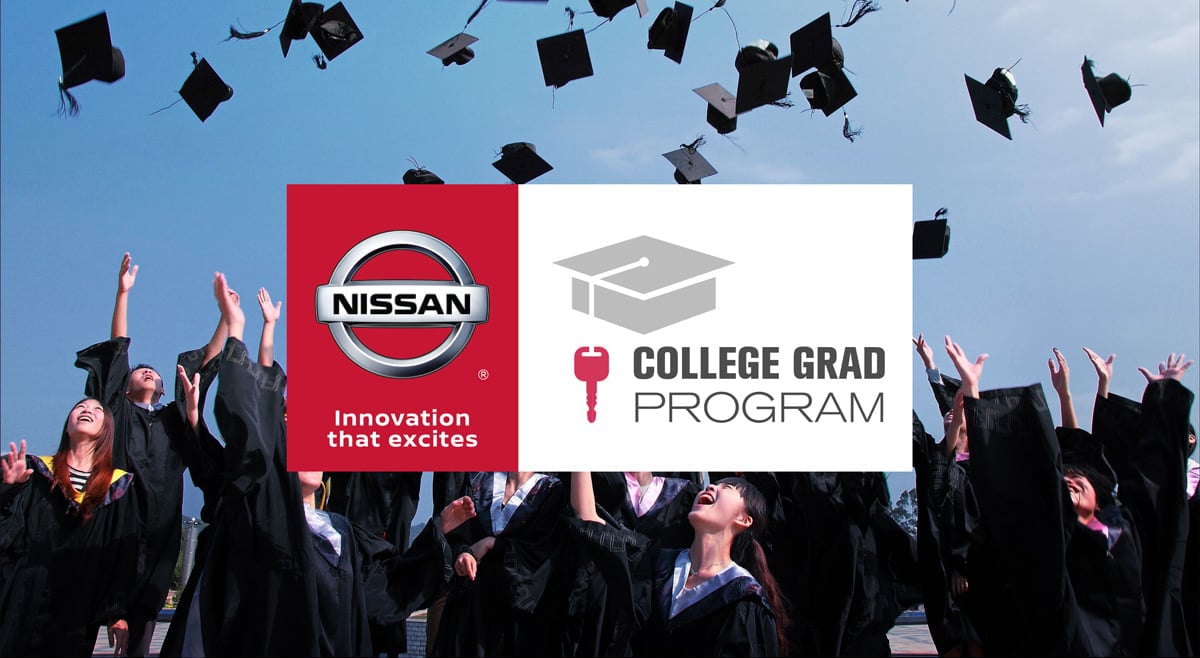 Your hard work with completing college is about to pay off in more ways than one. Looking for a new car? Look no further than the Nissan College Grad Program.
What Is the Nissan College Grad Program?
Graduates can score up to an additional $500 cash back on top of existing offers. Restrictions do apply such as proof of current employment or employment that begins within 90 days. This allows you to drive off the lot with a brand new Nissan of your very own as a reward for all of the hard work you have put towards graduating with a degree.
We have made it into a very simple process for you to own a new Nissan vehicle. All you have to do is visit our dealership, pick out the brand new Nissan of your choice, and drive off the lot for a lot less than you could ever expect.
We have several options for you to select from, each with their own special offers and deals. Some of the Nissan vehicles that are included in the College Grad Program include the Nissan Leaf, Versa Note, Altima, Rogue Sport, and Sentra.
Who Can Participate in the College Grad Program?
If you have graduated in the past 24 months or will be graduating within the next 6 months (with written confirmation of your graduation), you can take advantage of increased discounts on a large selection of brand new Nissan vehicles.
Right here at Trophy Nissan in Mesquite, TX, we are ready to work with college graduates to get you the best deal on any of our brand new Nissans. Come on down to take one for a test drive today or get any questions that you may have answered by any of our car experts. Or if you would like, give us a call as we have car technicians on standby to help you learn more about our College Grad Program.
Program Benefits Include
Works 6 months before graduation
Works 24 months after graduation
Doesn't need established credit
Doesn't require a cosigner
Doesn't require you to have a job*
Offers no money down option
Has rates as low as 0%
Offers lease approvals
Accepts all college degrees
Builds quality credit
Gets you into a new car, truck or SUV

Requirements:
Must be a two-year or four-year graduate (AA/AS or BS/BA) from an accredited U.S. two-year or four-year collage or graduate school (Masters/Doctorate) within the last twenty four months or provide university confirmation of upcoming graduation within six months from the contract date. All current Graduate Students and graduates with Nursing Degrees (LVN's, LPN's and Rn's also qualify).
Verifiable proof of current employment or verified proof of a job offer and salary with employment beginning within 90 days of the contract date are required. Proof of insurance.
Buyer must finance or lease through NMAC. Non-NMAC finance or lease contracts do not qualify.
* A letter of intent will work.