Trophy Nissan Shows Off the New Nissan Juke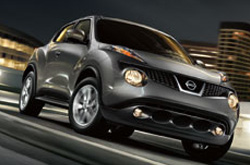 Trophy Nissan your source for 2013 Juke research and reviews. As the chief Nissan dealer in Dallas it is our job to supply our customers with Nissan reviews drafted by the most outstanding Nissan writers in the world. Nissan Juke information you can count on to make informed decisions is right here - each article is packed with [helpful information and specs - all at your fingertips. Does the Juke have your name on it? Read more and find out!
Update and live inventory of 2013 Nissan Juke in Dallas, Texas
Juke Video Review - Specs, Features & More
Specs & Features Bullet List
Check out the 2013 Nissan Juke side-by-side with versus similar autos like the 2013 Scion xB, Kia Soul, Toyota Matrix, Mini Clubman and the Mitsubishi Outback Sport, and you will spot that the 2013 Juke scores higher those vehicles in gobs areas. Check out the reasons see why!
2013 Nissan Juke Body Style(s): Compact SUV
2013 Nissan Juke MPG: 27 city / 32 highway
2013 Nissan Juke MSRP: $19,990
2013 Nissan Juke Colors: Atomic Gold, Gun Metallic, Metallic Bronze, etc...
2013 Nissan Juke Cargo Space: 36 cubic feet
2013 Nissan Juke 0-60 MPH in 7.3 seconds
2013 Nissan Juke Seats: 5 passengers
New Features Available on the Nissan Juke in Dallas
Service Information for Dallas Nissan Buyers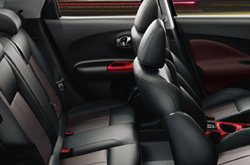 Nissan Juke owners won't get the same amazing factory-trained Nissan mechanics and reliable Nissan parts at a chain service company. But at our Dallas dealership you'll benefit from this every time, along with the satisfaction that comes with attaining a year service warranty. Trophy Nissan's auto repair employees will make your Juke run strong, so drive it to our Nissan car maintenance center in Dallas today. We do a wide range of repairs, from straightforward serpentine belt replacement and regular inspections to more challenging jobs such as muffler repair. Make a sensible choice when picking a spot to have your Nissan Juke repaired, and don' forget: At Trophy Nissan you can count on getting one-on-one service and budget prices on Dallas car repair. The next time you stopover at our service department, take a coupon! All you have to do is click the link underneath this sentence for specials.