Nissan Recall Check - Mesquite, TX
At Trophy Nissan, everyone on our staff wants our customers to know that the safety of their Nissan vehicles is of utmost importance to everyone on our staff. That's why we urge you to contact us whenever you believe your recently-purchased Nissan may be involved in a recall. When a vehicle has been issued for recall, you don't have to necessarily panic. All it means is that Nissan has identified something in manufacture that indicates a necessary part of your vehicle needs to be repaired to ensure your safety.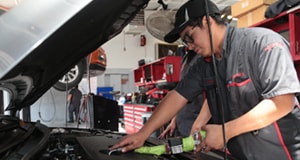 Often we have customers who are unsure whether their Nissan vehicle is involved in a recall. There's an easy way for you to check if you are unsure. Simply fill out the form below. Give us your vehicle's model along with its year. Another identifying factor is its VIN number. With either of these identifying factors, we can determine if your vehicle is part of a recall and needs to be repaired.