About the Nissan Versa in Mesquite
If you're having trouble deciding which Nissan is right for you, learn more about the Versa below. It might just be the Nissan for you! All Nissan dealers in Mesquite aren't the same. At Trophy Nissan, we feel it's our mission to equip customers with quality Nissan reviews that set us apart from the typical dealer. This Nissan review article contains everything you need to know about the Versa and it's specifications, mpg and more. Good luck on your Versa search!
Video Review of the Nissan Versa
Prominent Specs for the Nissan Versa
Check out the 2013 Nissan Versa alongside versus similar autos like the 2013 Hyundai Accent, Ford Fiesta and the Chevy Sonic, and you will find that the 2013 Versa trumps those vehicles in many areas. Check out the reasons see why!
2013 Nissan Versa MSRP: $11,990
2013 Nissan Versa Body Style(s): Compact Sedan
2013 Nissan Versa 0-60 MPH in 11.8 seconds
2013 Nissan Versa MPG: 27 city / 36 highway
2013 Nissan Versa Seats: 5 passengers
2013 Nissan Versa Cargo Space: 13.8 cubic feet
2013 Nissan Versa Colors: Fresh Powder, Super Black, Blue Onyx, Metallic Blue, etc...
Safety Features & Warranty Info for Mesquite Nissan Buyers
Our Nissan Auto Repair Center: Helping You Maintain Your Investment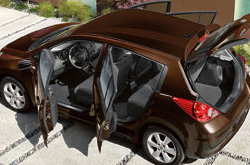 To get your Nissan Versa worked on by spectacular service techs, you don't need to roam far. Our Mesquite auto service center is a brief commute away and we offer a long-term warranty on every job. Even the quality Nissans in Mesquite can take a triumphing, so turn to the Nissan service and autp repair aces in Mesquite at Trophy Nissan. We will administer a chore as effortless as an oil change, or complete complicated auto repairs and service like timing belt replacements, strut and shock repairs and Nissan transmission rebuilds. Trophy Nissan's got you covered for tried-and-true Nissan repair and factory-scheduled service in Mesquite. The link under this text is your key to savings! Click now and you'll be transported to our coupon specials page!