Nissan Altima Review for 2015 Model Year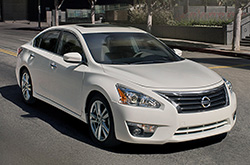 Terrific fuel economy combined with fun-driving and sporty handling has made the Altima a popular choice among affordable midsized cars. This year is no exception as we take a look at the new 2015 Nissan Altima in Dallas. With very little changing from last year, the Altima retains those characteristics we so enthused over last fall. Accordingly, we find numerous 2015 Nissan Altima reviews weighing in with a hearty thumbs-up on this winning family sedan.
Elegantly styled, the Altima is one of those cars you just feel good driving. Not only do you look good, but you have a responsive engine under the hood. The base 2.5-liter four-cylinder delivers a solid 182 horsepower with outstanding fuel economy. While 182 is a pretty respectable number, for those of us who prioritize power, 270 horsepower with 258 pound-feet of torque at 4,400 rpm sounds a lot better. That's what you'll get with the upgraded 3.5-liter V6 Altima engine. Even with all that power, you'll still net some nice fuel economy thanks in part to Nissan's use of continuously variable transmissions. To make things clear as you shop the 2015 Nissan Altima in Dallas, Nissan has named the models according to the engine sizes - Altima 2.5 and Altima 3.5, each offering up S, SV and SL trim packages.
Even the base Altima will pamper you with standard features like Bluetooth hands-free connectivity, remote entry and push button ignition. A customizable driver display and tilt/telescoping steering wheel with easy-touch controls help put you at ease behind the wheel, while Altima's split-folding rear seats make shopping excursions a snap when it comes time to load up awkwardly shaped purchases. Additional features are added as you move up the trim levels, running the gamut from leather upholstery and eight-way powered driver's seat to automatic climate control, navigation and advanced proactive safety alert systems.
In case you're wondering how the Altima stacks up against other sedans in its class, we've included an independently produced car comparison feature to help you compare Altima to leading rivals. You'll find the car comparison tool and more information as you continue reading our 2015 Nissan Altima review for Dallas sedan shoppers.