About Nissan Reviews From Trophy Nissan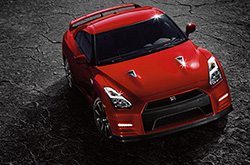 Godzilla has just become a little more civilized. Since most of the people who are buying GT-Rs are driving them on public roadways and not exclusively at the track, Nissan has made some suspension, steering, braking and tire design changes this year to make the GT-R more livable for daily driving. If you're thinking about the 2015 Nissan GT-R in Dallas, you'll be happy to hear that a noise-canceling system which includes increased sound insulation has been added to make long drives more pleasant. Of course the most exciting news is the addition of the 2015 GT-R NISMO model to the lineup with its incredible 600-horsepower V6. Our 2015 Nissan GT-R review will take a closer look at this new NISMO model and share with you some test-driver comments and impressions.
The automotive world is abuzz with talk of the new GT-R NISMO's performance stats. Numbers for zero-to-sixty acceleration are being bandied about that are pretty awe-inspiring: 2.9 seconds; 2.7 seconds has been reported. Nissan doesn't really promote that stat, but the consensus is "under three seconds." The new engine is a hand-built 3.8-liter twin-turbo V6. The regular GT-R model's version puts most V8s to shame with its 545 horsepower, while the NISMO edition cranks out an amazing 600 horsepower and delivers 481 pound-feet of torque. The new NISMO body kit sports all new carbon fiber front and rear fascia and a uniquely designed rear spoiler plus a completely different suspension system, all working together to add an extra 200 pounds of downforce at top speeds. Even more amazing when talking about this type of highly engineered machinery is that you can still bring your GT-R or GT-R NISMO to your local Nissan dealership for engine maintenance and repair.
Motor Trend's Nate Martinez enjoyed the "beautiful mid-corner controllability" and "equally beautiful exit steeped in asinine speed." When answering the question of value, calls the NISMO a bargain.
Join us as we continue our 2015 Nissan GT-R review below with more specs and stats, a video-overview of features and a comparison tool to show you how the GT-R fares when compared to supercars from makers like Ferrari, Maserati and Lamborghini. If you'd like to take a spin in a 2015 Nissan GT-R in Dallas, contact Trophy Nissan for a test-drive appointment.