Welcome to Trophy Nissan's Juke Review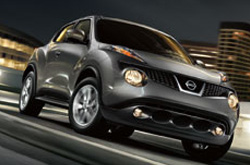 It's a whole new year and a whole new design for the 2015 Nissan Juke in Dallas. Between big changes and small tweaks, the Juke has undergone revisions just about everywhere, so it's time you took another look at this sleek CUV. Not for the faint of heart, Juke was born outside-of-the-box and is now more of a head-turner than ever. If you enjoy being the center of attention, this new Juke may be just the standout vehicle that'll float your boat. Our 2015 Nissan Juke review will highlight the new look, inside and out.
Juke's in-your-face front end is a little more pugnacious this year with the addition of new xenon headlamps and LED running lights creating a sharper, edgier look. The squeezed-down front grille is a bit more stylized while the rear taillamps also received a makeover, adding extra pizzazz to what was already an interesting feature. New alloy wheel selections will give added pop to your profile when driving a new 2015 Nissan Juke in Dallas.
Inside, new colors, fabrics and leather trim add interest to what is already a very comfortable interior. Juke really kicks tailpipe in the cargo-capacity category for the compact SUV class after this redesign afforded a 40-percent increase in usable interior space in front-wheel drive models. You'll also find a lot of new high-tech connectivity and driver assistance systems available in the new Juke. The latest and greatest versions of NissanConnect will have you conversing with folks you haven't talked to in years - since with hands-free texting, you can only answer those questions you like, and you can listen to your streaming music between messages.
Juke's new safety features are offered in the Safety Shield suite and include warnings for lane drift and vehicles in your blind spot. There's even a 360-degree all-around viewing monitor to help you negotiate tight spots like parking garages or unfortunately placed hedgerows, seemingly dedicated to scratching your paintjob.
Looking under the hood to wrap up our 2015 Nissan Juke review preamble, we find an old friend - the 188-horsepower, 1.6-liter turbocharged four that delivers outstanding power and efficiency such that Nissan felt it needed to stay. Take life easy with the CVT or stay young with the six-speed manual. For the truly young at heart, opt for the NISMO RS model with its specially sport-tuned 215 horses. Either way, you're in for some fun.