Nissan Dealership near Dallas Reviews the 2015 Leaf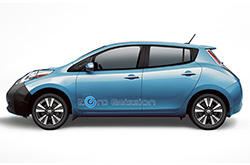 Don't be a slave to tradition. Ride the future-wave of cars without tailpipes and shop the 2015 Nissan Leaf in the Dallas area. Texas was all about cattle before it was all about oil, and it'll be all about something else as technology moves forward, because the only Texas tradition that really matters is the pioneer spirit. Peruse our 2015 Nissan Leaf review to see how electrically powered transportation might be just the ticket for quieter, cleaner rides to work, school or running local errands.
To begin with, the Leaf is an attractive vehicle. It is boldly styled with headlamps that sweep back almost the full length of the hood. Large windows and a high roofline translate to an open, airy interior cabin with good visibility and plenty of legroom and headroom. Four may ride comfortably, and you can squeeze in the neighbor kid in a pinch. Behind the seating, there's 24 cubic feet of cargo area with easy loading and unloading through the hatchback. Split-folding rear seats make it possible to pack in awkwardly shaped or extra long items. Rear lights outline the hatchback almost up to the roofline in an attractive arched design.
You'll be able to drive your 2015 Nissan Leaf in Dallas for 84 miles on one full charge, so most folks won't have any trouble running their normal daily commute and recharging at home while they sleep. Significant savings may be had on your annual fuel budget even after deducting the added electricity costs from the amount you would have spent at the pump.
We think you'll like the Leaf's user-friendly controls. An actual adult can operate Leaf accessories without calling that geeky neighbor kid over to serve as a techno translator. Well, maybe for the Bluetooth connectivity if your last car was a '98 Maxima. But you'll love the keyless entry and ignition, automatic climate control and the rearview camera. Continue scrolling through our 2015 Nissan Leaf review for more specs and features information.