Review the 2015 NV Cargo from Nissan Dealer in Dallas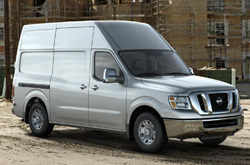 Whether your business requires you to carry packages or people, it is important to have the right vehicle for the job. Most businesses involved in short-distance passenger transportation require something less than a transit bus and something more than a minivan. With all the flexibility and capability offered, it is no wonder you'll be seeing a lot of the 2015 Nissan NV in Dallas.
2015 Nissan NV reviews say this passenger van is ideal for shuttling people in comfort. With 324 seating configurations for up to 12 passengers and a class-leading total of six independent rear seats, you will have the flexibility and competitive edge you need. The seats in the NV Passenger are made of an easy-to-clean heavy duty vinyl with protective wear patches on the bolsters.
If you need to haul cargo instead of people, consider the full-size Nissan NV Cargo Van or the compact NV 200.
The full-size NV Cargo in standard roof configuration offers 234.1 cubic feet of space. Flat loading floors can accommodate two 40" x 48" pallets, and the 54" between the wheel wells is enough width to hold 4' x 8' drywall sheets.
The compact two-seat NV 200 has a cavernous 122.7 cubic feet of cargo space despite its small footprint. It also features a flat load floor and 60/40 split rear doors that can be locked in place at 90 or 180 degrees. The bumper is low to ease loading and the two sliding side doors allow selective access to cargo.
The full-size NV Passenger and NV Cargo come with a choice of a 261-HP V6 engine or the heavier-duty 317-HP V8. The compact NV 200 has a thrifty but effective 131-HP 2.0 liter DOHC 4-cylinder.
Better appointed than most and as capable as any, the Nissan NV is sure to become the new industry standard for commercial vans. Continue reading our 2015 Nissan NV review below, or see the 2015 Nissan NV in Dallas at Trophy Nissan.