Quality Nissan Pathfinder Research From Trophy Nissan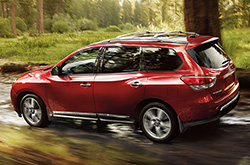 If you are shopping for a crossover, make sure you check out the 2015 Nissan Pathfinder in Dallas. You know what you want from your vehicle; you'll probably get that from most crossovers and then some. Which means you'll pay for what you want and then some. Sure, most crossovers come pretty well-equipped, and most have option packages that will give you one or two other things you want, bundled with stuff you don't.
The navigation package is nice, but why should you have to pay for the mood-sensing horn and muffin warmer just to get it? Nissan understands. That's why you'll find the Pathfinder's options reflect what families actually need. For instance, with the available Nissan Navigation System, you also get traffic information, Bluetooth streaming audio, and voice recognition - not a muffin-warmer in the bunch.
One of the features prominently mentioned in 2015 Nissan Pathfinder reviews is the tri-zone entertainment system, which lets you deliver separate programming for each of the two seven-inch rear screens for DVD or gaming, while front-seat occupants can enjoy their own choices.
Nissan also knows families don't go anywhere without packing along a lot of necessaries, from diaper bags to soccer gear. But you don't want all those sippy-cups, baseballs and violins flying around the cabin every time you touch the brakes. Your Pathfinder has lots of bins and pockets to put all that stuff.
And Nissan keeps your family safe, with standard safety features including six standard airbags, with the side-curtain airbags offering a rollover sensor and covering outboard positions in all three rows. There's also stability control, traction control, four-wheel disc anti-lock brakes, and Brake Assist.
It's clear the Pathfinder is genuinely designed with families in mind. Learn more as our 2015 Nissan Pathfinder review continues below. See for yourself how the Pathfinder stacks up against the competition with our Dare-to-Compare feature or test drive a 2015 Nissan Pathfinder in Dallas at Trophy Nissan.