2015 Nissan Quest Reviews from Trophy Nissan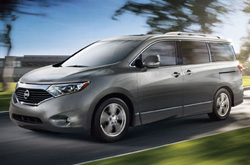 In its 2015 Nissan Quest review, Consumer Reports says the Quest is among the most luxurious minivans on the market, with a plush and quiet interior and a smooth, compliant ride. We agree the Quest resides in the top end of the minivan food chain, but it is also a particularly handsome vehicle, with bold character lines along its flanks and a distinctive trapezoidal grille. The design gives the Quest a powerful presence. Yet, these features are more than mere eye appeal. With a 0.32 Cd in the wind tunnel, the Quest is one of most aerodynamic minivans on the market.
Take a seat behind the wheel of a 2015 Nissan Quest in Dallas and you'll find a spacious upscale interior. If you need to haul stuff instead of people, you can forget about removing the 2nd-row of seats. Just fold them flat. Quest's 3rd-row easily folds forward with a quick release.
A feature we particularly like is the Permanent Rear Storage Well behind the third row seats. This convenient storage area lets you stow items away from prying eyes, and beyond reach of prying hands. Unlike other vans, it can be used whether the 3rd-row is up or down.
One phrase we see as a common thread in 2015 Nissan Quest reviews is that the Quest is fun to drive. Powered by Nissan's proven 260 horsepower 3.5-liter V-6, this minivan never feels strained for power. The hydroelectric steering automatically adjusts its steering feel in response to vehicle speed. It's easier at low speeds for parking and firms up for cruising. The independent suspension at all four corners, combined with the Quest's small footprint gives it a more nimble feel than its competitors.
Four Quest trim levels are available: S, SV, SL and LE. All versions come equipped with a host of safety features, including dual front, front side and full-length side curtain airbags as well as traction and stability control systems and a tire-pressure monitoring system. With all this going for it, you can bet you'll be seeing a lot more of the 2015 Nissan Quest in Dallas.�