Trophy Nissan Shows Off the New Nissan Versa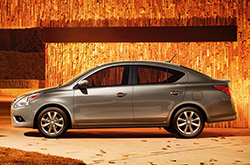 2015 Nissan Versa reviews say this carmaker proves that a subcompact can be inexpensive, efficient, attractive, comfortable, spacious and safe. Since the Versa has been the bestselling subcompact for four years running, it seems clear Nissan has tapped into the zeitgeist for shoppers in this segment.
Looking at the 2015 Nissan Versa in Dallas, you'll see the family resemblance to the handsome Sentra and Altima in its design elements. Some cars in the subcompact class give the impression they were conceived by cardboard box manufacturers. The attractive Versa looks like some effort and thought were taken with its appearance. The Versa is also available as the Note, a five-door hatch that many people find the best-looking in the segment.
The 2015 Versa may be small on the outside, but it impressively roomy on the inside. There is plenty of space for carrying four full-sized adults with ample head and legroom afforded even to backseat passengers. In the sedan, rear-seat passengers can wallow in 37 inches of legroom and the 14.9-cubic-feet of space in the trunk provides as much stowage as some mid-sized cars. In the Versa Note hatchback, back-seaters have 38.3 inches of leg-stretching space. That rivals what you'll find in most full-size sedans. The Note hatch also provides 18.8 cubic feet of cargo space with rear seats in place or up to 38.3 with the back seats folded down.
The 1.6-liter engine is mated with a continuously variable transmission that optimizes fuel economy. At the base level, you can also choose a five-speed stick. Combine that great fuel economy with the Versa's spaciousness and you have the essentials of a great commuter, but the Versa goes beyond the bare essentials. Test-drive a 2015 Nissan Versa in Dallas and you will experience for yourself its easy handling, tight turning, and comfortable, quiet ride.
The Versa is the most affordable car sold in the US, but it also offers great fuel economy, comfort, space, and class-leading resale value. Learn more about this awesome little subcompact car as our 2015 Nissan Versa review continues below.