Learn More About the New 370Z From Trophy Nissan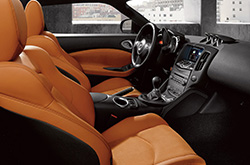 Texas sports car shoppers who appreciate the thrill of short-wheel-based rear-wheel-drive handling should look at the newly refreshed 2015 Nissan 370Z in Dallas. There are plenty of choices to suit your fancy: 332-horsepower coupe or roadster, each with an available 350-horsepower NISMO model which includes additional sport tuning. Find the 370Z Coupe in Sport, Sport Tech or Touring trims, or go topless with the Roadster, which also offers up a Touring or Touring Sport trim.
2015 Nissan 370Z reviews tend to focus on the NISMO models, but we found some fun feedback from Jalopnik on the 2015 370Z Roadster that driving junkies will truly appreciate. "...if you give it a little too much power with the traction control off, the whole thing rotates. And that means it drifts. And that means, when you go beyond the limit, it is more fun than any little Nissan has a right to be." And isn't that why you buy a sports car?
Of course, the car should also look the part, and Nissan's redesign this year sealed the deal in that respect. With a new, more aggressive and frankly, sexy appearance, Nissan combined form with function, improving aerodynamics and optimizing front and rear downforce at the same time. Inside, it's comfy and admittedly cozy, but you've got room for real-world needs, like actual trunk space, even with the top down. Nissan claims there's room for two sets of golf clubs. For non-golfers, imagine about four cubic feet (six-plus in the coupe). That's certainly enough for a couple overnight bags for those romantic weekend getaways - you may want to save the drifting for another time.
Ok, so maybe you can't always air out your Z car; you may be stuck in traffic. What then? Jalopnik's 2015 Nissan 370Z review noted the Touring trim to be "loaded with electronics." Infotainment rescuers include Bluetooth audio, a Bose sound system and navigation. Besides soothing your mind, amenities like heated and cooled seating makes waiting in Dallas traffic backups a lot more comfortable!
Learn more from our video tour and car comparison features below, or drop by Trophy Nissan in the east metro area and investigate how you can be driving a 2015 Nissan 370Z in Dallas.