The Basics of Nissan Tire Service
Discover tips and tricks of tire maintenance and find out how you can determine if your Nissan needs new tires by clicking play.
Routine tire service is necessary to maintain the health of  your Nissan  Altima, Maxima or other make/model. Thousands of people suffer fatalities on U.S. roadways each year due to faulty tires. Don't let this happen to you. If it has  been a while since you've had tire rotation or alignment, we recommend you schedule an  appointment right away.
In addition, if your tires are due to be replaced, it's essential to have them upgraded. Failing to do so could jeopardize you and your passengers'  safety on the road. Keep reading to learn more.
How Often to Have Tires Rotated & Aligned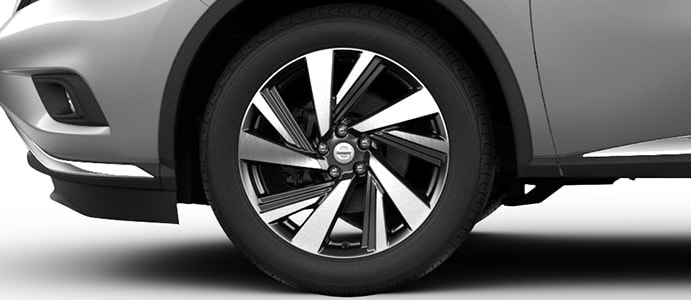 We highly recommend getting your tires rotated every 3,000  to 5,000 miles or during regular oil changes. Also, your new or used car, truck  or SUV in Mesquite should have an alignment done at least once a year. Having  these car services near Dallas performed will help keep your vehicle running  its best.
On top of those recommendations, we also encourage all our  customers to check their tires' pressure on a monthly basis, or sooner, if you  drive on unpaved roads or speed. Always follow the recommended psi in your  owner's manual.
What Are Some Tire Wear Signs?

If you don't maintain your car's tires, your vehicle will  probably start pulling to one side. You may also notice steering wheel  vibration. These are misalignment issues that, if ignored, can lead to severe  damage to your vehicle. In addition to these signs, there are various other  ways to tell if your tires are in need of repair or replacement. These symptoms  include:
Cuts in tires
Frequent low pressure
Noticeable wear bars
Bulges/gouges in sidewalls
You'll also want to pay attention to the health of your tire  tread. Simply take a penny and insert Abe's head downward into the tread. If  the top of his head is visible, your tread is dangerously low and you should  bring your vehicle in for new tires as soon as possible. If this is the case,  you'll be happy to know that we offer very affordable pricing on  top-of-the-line tire brands like Michelin, Hankook, Goodyear, Firestone and  many more. Contact us today for more information!
Where Should I Take My Vehicle for Tire Service Near Dallas?
Give your vehicle the high-quality car care in the Dallas  area that it deserves by bringing it to our award-winning car dealership in  Mesquite! We offer affordable pricing, outstanding customer service and much more. No matter the job, you can count on our highly-trained technicians to  provide your vehicle with exceptional car care.
Stop by or contact us today to learn more about the many services we offer!
*Buy 3 Tires, Get One for $1: Offer eligible on Bridgestone, Continental, Dunlop, Goodyear, Hankook, Kumho, Toyo, and Yokohama OEM, OEA, and WIN tires only. Certain restrictions apply. See dealer for details. Price and offer availability may vary by model. Taxes and fees additional. No cash value. Must present offer to redeem. May not be combined with other offers. Void where prohibited. Ends April 30, 2020.
Service Hours
Monday

7:00 am - 6:00 pm

Tuesday

7:00 am - 6:00 pm

Wednesday

7:00 am - 6:00 pm

Thursday

7:00 am - 6:00 pm

Friday

7:00 am - 6:00 pm

Saturday

7:00 am - 5:00 pm

Sunday

Closed