Nissan has extended the warranty for the CVT transmission on several of our model lines including Versa Sedan, Versa Note, Sentra, Altima, and Juke for the model years 2012-2017. Here at Trophy Nissan, we're here to support our customer and try to give them the best quality of service and assistance that we can. Part of that is educating you and letting you know what we can do to help you with the assistance of Nissan. Nissan has extended the warranty on those vehicles for 84 months or 84,000 miles; whichever comes first. If you have questions pertaining to this, please feel free to give Trophy Nissan's Service Department a call and you can have any of our Service Advisors walk you through the process and let you know exactly what we can do.
While oil changes and tire rotations are some of the more common services that drivers think about when the matter of vehicle maintenance comes to mind, many other automotive systems and components must receive professional maintenance at various intervals. The transmission is essential to your vehicle's proper function because it provides control to the torque and power produced by the engine. With its unique function, it is understandable that immense friction and heat are generated in this area of the car. Transmission maintenance addresses wear and tear associated with this friction and heat. When you bring your Nissan to our dealership's service center, whether your vehicle has a continuously variable transmission (CVT), a manual transmission, or a standard automatic transmission, our team has the experience to complete all necessary maintenance services properly and efficiently.
How Frequently Should My Nissan Receive Transmission Maintenance Service?
Unlike oil changes and tire rotations that you may complete several times per year, a transmission typically needs to be flushed or have the fluid changed approximately one time every two or three years, regardless of transmission type (CVT, automatic, or manual). This timing interval equates to service after 30,000 to 45,000 miles have been placed on the vehicle. This is a general rule, and you can learn about specific service recommendations for your Nissan by reading the owner's manual or consulting with one of our certified auto techs.
How Can I Tell If My Car's Transmission Is Broken?

If you have noticed that your vehicle emits a burning smell or if you see leaking transmission fluid underneath the car, repair work is likely needed for the transmission. A few other common signs of transmission damage include a rough ride when the car's gears change and the "Check Engine" light turning on. Repairing a broken transmission as soon as possible can help you to avoid having to deal with very serious mechanical issues. If you identify any of these signs of transmission damage or if you need to request a maintenance appointment with our team, call the office today to schedule service.
What Is the Typical Recommended Transmission Service for a Nissan?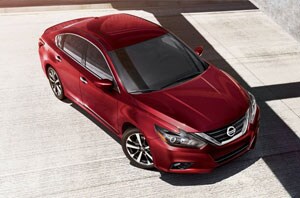 Transmission fluid serves a vital role as a lubricant and a coolant, and it runs through many components in this system of your Nissan. A special transmission filter prevents some dirt from entering the fluid, but as you continue to drive the vehicle, the level of dirt in the transmission fluid increases. As this happens, the fluid becomes less effective at its job. Eventually, the benefits of the fluid decline, and repair issues with various transmission parts can occur.
The two transmission services for a Nissan are flushing the transmission or changing the fluid. When you compare these services, you will see that they both involve a replacement of transmission fluid in the pan and a replacement of the filter. This is the only work that is usually completed with a transmission change. A flush, on the other hand, drains all of the transmission fluid from the pan as well as from other areas, such as the cooling lines and the converter. While your first inclination may be to opt for the more significant service, which is a transmission flush, the cost and effort for this level of service is not always needed. Typically, a flush is necessary if the fluid is extremely thick and dirty and if the transmission has not received service for many years. Otherwise, a fluid change may work well.
Service Hours
Monday

7:00 am - 6:00 pm

Tuesday

7:00 am - 6:00 pm

Wednesday

7:00 am - 6:00 pm

Thursday

7:00 am - 6:00 pm

Friday

7:00 am - 6:00 pm

Saturday

7:00 am - 5:00 pm

Sunday

Closed