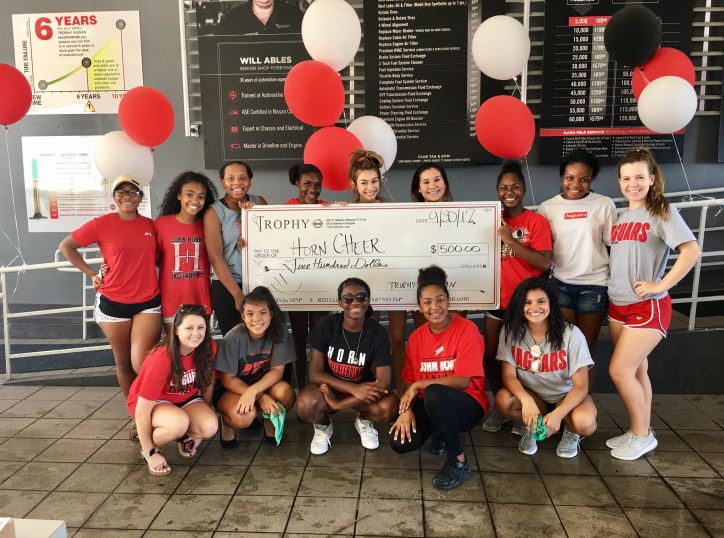 Trophy Nissan cares about our area's students, and we want to help them in any way we can. That is why we are donating $500 to our school's booster clubs, but they have to earn it in a fun way!
Winning this prize is easy. When one of our area's high schools has a football game, you'll usually catch us on the scene. During half time, a fan makes their way to the field to try their skills at kicking a field goal from the 10-yard line. If they are able to accomplish this feat, we donate $500 to that school's booster club.
We also believe in helping our youth learn lifelong skills by letting them volunteer at our service department. We offer two shifts for them to choose from each Saturday – 7 a.m. to noon and noon to 5 p.m. During their time here, they help the valets in making sure guests are greeted as their cars are vacuumed and dried.
Our service drive is dressed in each participating club's school colors, creating a strong sense of camaraderie. Not only does the program help our youth learn about some of the ins and outs of the automotive business, it also helps them earn volunteer hours.
Since the program begin, we have had the opportunity to partner with various school clubs, including:
Dr. John Horn High – Varsity Cheerleaders, Varsity Drill Team, Core Athletic Training Club and Multicultural Club
Sunnyvale High – Business Professionals of America
Poteet High – DECA Team, Junior Varsity Cheerleaders and Student Council
West Mesquite High – National Honor Society
The $500 donation helps each club pay for things like transportation to games and supplies for their organizations.
To all our students, parents, faculty and staff who have participated in this exciting program, thank you!