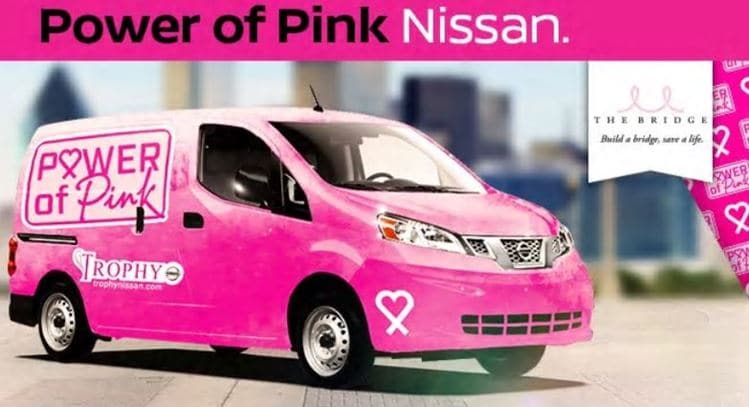 Trophy Nissan and iHeart Media have teamed up to create the Power of Pink Nissan campaign in an effort to help those affected by breast cancer. From now through Sunday, October 29, we encourage everyone in our local community to join in on this meaningful cause. All we need from you is your signature!
Our Power of Pink Nissan NV200 will be making its way to various locales in an effort to collect signatures from those who just want to show they care. For each signature we get, we'll make a donation to a local women's charity. All you have to do is sign your name on the van. You can't miss it either, the vehicle has been painted pink with pink ribbons and special Power of Pink graphics.
Local radio stations, including Lone Star 92.5, 106.1 KISS FM and 102.9 NOW, will also be on the scene playing all your favorite tracks. Join us in the fight against breast cancer by visiting us at the locations below. Other designated spots are yet to be determined. For further details, please contact us or stop by Trophy Nissan. We hope to see you soon!
Friday, October 20
5 p.m.-7 p.m.
Birdville High School
Football Game
Friday, October 27
2 p.m.-4 p.m.
JoAnne Fabrics
2000 F.M. 663 Suite 500
Midlothian, TX 76065
Sunday, October 29
5 p.m.-7 p.m.
Pink Urban Music Festival
2403 Flora St. Dallas, TX 75201