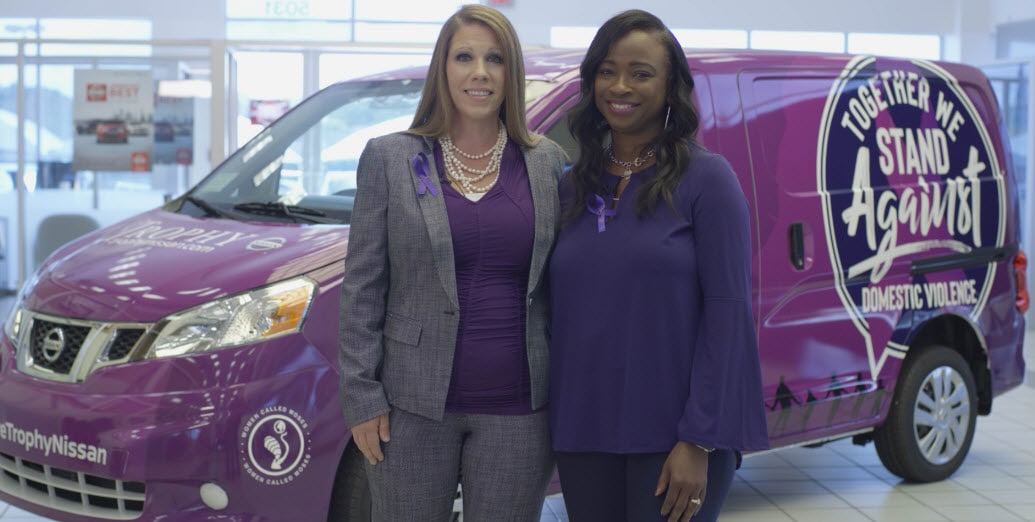 Photo: Trophy Nissan General Sales Manager Jennifer Carroll & Women Called Moses Founder and President Debra Nixon Bowles
While October is National Domestic Violence Awareness Month, the issue of domestic abuse—both physical and emotional—deserves attention all year round. One in four women will experience some form of domestic violence according to the Department of Justice, and we want to do what we can to support local women and children in North Texas who are in danger.
Women Called Moses is an amazing charitable organization that provides immediate access to safety at local hotels, ensuring that women in need of refuge can be accommodated even when shelters are full. Trophy Nissan is proud to partner with the organization in developing the "1000 Safe Nights" program, an initiative designed to build awareness about domestic violence, while also raising funds to provide shelter.
We custom wrapped a 2018 Nissan NV and invite you all to come sign your name on the van to show your support for the cause. We're featuring the Nissan NV in various areas throughout our car dealership and will make a donation for every signature. Our goal is to raise $75,000, which will provide 1,000 nights of safety for women and children escaping domestic violence.
"This issue is all too real for me and I'm thankful to work for a company that is committed to helping women affected by domestic violence. Trophy Nissan understands that together with the community that we serve, we can make a real difference and provide a 1000 Safe Nights," said Trophy Nissan General Sales Manager Jennifer Carroll.
In addition to providing shelter for battered women and children, Women Called Moses also provides free job skill training and ongoing education to help families rebuild their lives and gain independence. To learn more about the nonprofit, please visit the official Women Called Moses website.