Trophy Nissan Shows Off the New Nissan Murano CrossCabriolet
Trophy Nissan is your trusted Dallas resource for reviews of the 2013 Nissan Murano CrossCabriolet. We take our mission to present the finest reviews composed by Nissan automotive writers - it's just another thing that makes us the stellar Nissan retailer in Dallas. Nissan Murano CrossCabriolet information you can have faith in on to make versed decisions is right here - each passage is filled with [helpful material and specs - all at your fingertips. Read on to see if the 2013 Murano CrossCabriolet should be parked outside your home.
2013 Nissan Murano CrossCabriolet Features Video
Premier Information on the Brand-New Murano CrossCabriolet
2013 Murano CrossCabriolet vs the Competition - Compare Features & Specs
Check out the 2013 Nissan Murano CrossCabriolet against versus similar autos like the 2013 Ford Expedition, Lexus RX and the Infiniti JX, and you will spot that the 2013 Murano CrossCabriolet beats out those vehicles in numerous areas. View the reasons see why!
2013 Nissan Murano CrossCabriolet Seats: 4 passengers
2013 Nissan Murano CrossCabriolet Body Style(s): Convertible SUV
2013 Nissan Murano CrossCabriolet 0-60 MPH in 8 seconds
2013 Nissan Murano CrossCabriolet Cargo Space: 31.6 cubic feet
2013 Nissan Murano CrossCabriolet Colors: Pearl White, Merlot, Caribbean, etc...
2013 Nissan Murano CrossCabriolet MSRP: $44,540
2013 Nissan Murano CrossCabriolet MPG: 18 city / 24 highway
New 2013 Murano CrossCabriolet Features & Amenities
Learn About the 2013 Murano CrossCabriolet's Engine & Powertrain
Learn About Our Nissan Auto Repair Center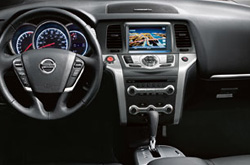 To get your Nissan Murano CrossCabriolet worked on by fantastic service techs, you don't need to travel far. Our Dallas auto service center is a quick drive away and we offer a long warranty on every repair. To keep your Nissan in good shape, put it in the hands of Trophy Nissan's auto repair gurus. We can work on almost any job - from wiper blade or tire rotation and replacement to quick oil and filter changes; we also handle the more time consuming stuff, including Nissan transmission repairs and more. It's easy as ABC: If you want gurus service and bargain repair prices in Dallas, make Trophy Nissan your first stop for Nissan vehicle maintenance. The next time you head over to our service department, take a coupon! Press on - click the link under this text for specials.